This page helps the media to instantly obtain reproduction quality photographs of Chris Pilsworth. To download one of the photographs on this page, simply click on your choice.
&nbsp&nbsp&nbsp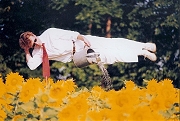 &nbsp&nbsp&nbsp
Chris' complete biography follows as well as answers to questions he has been asked very frequently about his career.
Biography
Chris Pilsworth was born in Toronto in 1963, but has lived most of his life in Ottawa, Canada's capital city.
Chris' enthusiasm for magic was sparked at the age of twelve, when he attended a magic show at Ottawa's National Arts Centre. This interest continued unabated throughout his high school and university years. After graduating from Carleton University in 1986, Chris decided to pursue his dream of becoming a full-time professional magician. The degree he earned in Industrial Design (with distinction) has greatly enhanced Chris' ability to create unique props and illusions.
After entertaining thousands of satisfied customers at corporate and private events, Chris was drawn towards the theatre. In 1997, following many years of planning, he independently produced and starred in his own theatrical magic show. Entitled:
Disappearing Nightly,
the 'dramagic' production brought together many never-seen-before illusions with music, dance and drama. The premier show played a full week to capacity crowds at the Ron Maslin Playhouse in Kanata, Ontario, and received standing ovations every night. This and the show:
Catch The Magic
has continued to tour throughout the province of Ontario.
Chris has participated in many magic competitions and won awards at both the national and international level. He is a winner of the Tom Auburn Award in Montreal. As a result of his unique, very personal approach to the performance of magic, Chris has become well-known and highly respected throughout Ontario and Western Quebec. Whether the event takes place on a theatre stage, at the Governor General's Garden Party, or the opening festivities of the Corel Centre, home of the Ottawa Senators hockey team, Chris continues to wow his audiences.
Frequently Asked Questions and Answers
Why did you become a professional magician?
When I was 12 years old, I attended a magic show at the National Arts Centre, called The World Festival of Magic and Witchcraft. The show was so fascinating it quite bewitched me, and I left with an intense desire to learn all I could about magic. I began right away and, over the next few years as I went through high school and university, I continued to be absorbed by the many facets of magic. This fascination developed into a firm resolve to become a professional magician.


How did you get started?
My local library was a prime source of books on the subject and I also found catalogues for buying tricks through the mail. I practiced every day until I could put on shows for my family and friends. Before long, I was able to charge the grand fee of $5 a time to entertain at friends' birthday parties. And I reinvested the money I earned into new magic books and tricks.


How long have you been performing as a professional?
Since 1987. Even though I attended Carleton University to obtain a degree in industrial design (graduating with distinction), I couldn't envision a career doing anything else but magic. In fact, taking the design course has helped me enormously over the years with the props and illusions I create, especially in my theatre work.


How many shows have you performed?
Over 4000 shows, which include corporate events and private functions as well as theatre shows, which means I have entertained over a quarter of a million people.


Why did you decide to move into the arena of theatre work, which presents a number of difficulties and a huge amount of work?
Theatre was the next natural step in my career plan I really enjoy the environment of a theatre and entertaining such a large crowd of people at one time. Also, I have new ideas about the presentation of magic and illusions - combining them with music and dance and creating a dramatic story line, for example. I want to be known all over North America, and theatre performances put my name out further afield geographically.


Which well-known magicians do you admire or try to emulate?
Doug Henning was always a source of inspiration for me and I followed his career and style of magic avidly when he was alive. I was also very pleased to meet David Copperfield when I was president of the Ottawa Society of Magicians (I joined the International Brotherhood of Magicians in 1987.)


What's different about your performance of magic?
Because I perform full-time - I have no other career - I take magic very seriously and give a great deal of thought to how magic is presented. I enjoy developing new ideas and new approaches - creating illusions that have never been seen before and finding new ways to present them. Because magic is my full-time career, I have to run it as a business, and I pride myself on doing so professionally and with integrity.


Have you ever made any mistakes?
I think every magician makes mistakes now and then. The thing is not to let the audience know that you have - and so spoil the magic for them. When you practice as much as I do, you know how to cover up minor mistakes.
---
Home | Businesses | Family Parties
Media | Contact Chris


Graphics provided by Aerographics