Are you looking to add a little excitement to your next party? Something different that will simply thrill and amaze young and old alike?


Whether your event includes family, friends and neighbours, kids only, or a community group, Chris Pilsworth's magic is guaranteed to captivate. Chris' shows combine a unique and varied repertoire with a warm, humorous style that quickly creates a rapport with his audience. And his performances can be tailored for the individual occasion, particular age group or audience interest.
Well-known and respected throughout Ontario, Chris is called back year after year to put on shows at:
Birthday Parties
Weddings
If you are planning a birthday party for your child, why not request a copy of Chris' helpful hints for "The Perfect Party".
E-mail Chris
for a copy to be e-mailed to you.
The Best Birthday Party Ever!!!
Ottawa kids love watching Ottawa magician, Chris Pilsworth. Many say, it was the best birthday party ever! During his magic shows, you'll often hear, "You're a real magician!" Make your child's next party truly magical. Give them a birthday party they'll never forget. With more performing experience than any other magician in Ottawa, Chris knows what kids like!
The Express Show
This 50-minute show blends award-winning magic, laugh out loud comedy and delightful audience interaction. Add a dash of music and you have a superlative recipe for fun!
The Extra Special Show
Combine the 50-minute show with 10-minutes of fabulous balloon hats and you have a full-on entertainment package that's guaranteed to please your child and their friends!
The "Never Forget" Show
This exclusive package combines the 50-minute show, 10-minutes of balloon hats and an awesome T-shirt for the lucky birthday child. Hands down, this package will have your child talking for weeks! It is without a doubt an Ottawa birthday party favourite.
Accolades
Chris has entertained thousands of satisfied clients. From among the many letters of recommendation he receives are these quotes:
"Thank you so much for a wonderful show. The kids and adults alike haven't stopped talking about it. You are very talented. It made for the perfect party for our children. We will absolutely pass your name along. Thanks again and all the best!"
The Denton Family
"I just wanted to drop you a quick line and thank you for the super job on Saturday night. Dana absolutely loved the show, and we have received lots of positive feedback from our guests. You are a wonderful magician and entertainer, good luck and we hope to see you again soon!"
The Raitanen Family
"Thanks for the party again Chris...it was a real success. The thought you put into your shows and presentations is unmatched. I was particularly impressed with your French and the fact that you did the entire show in French was extremely well received by our friends. You are truly born to amaze."
The Hill Family
"I was completely 'amazed' at how you kept 13 eight year old boys entertained for more than 45 minutes. Now that's magic!"
The Wrixon Family
"Your magic is superb. The children and adults alike will always remember what you showed us: that magic is both a part of everyday life and incredibly mysterious."
The Campbell Family
"Without question, aside from the actual marriage ceremony, your magic act was the highlight of the wedding celebrations!"
The Barber Family
"The first time my husband and I had the privilege of seeing you perform a show, I knew instantly that you and your magic show would be perfect for birthday parties, for children of all ages."
The Gregory Family
"...it was a hit not only with the children, but also with the adults who were present. Keeping 16 six year olds quiet, focused and occupied for an hour certainly is magic!"
The White Family
"I can tell you with complete honesty that my husband and I both agreed that the money we spent to have you perform for Dylan and his friends was one of the best investments that we ever made."
The Thompson Family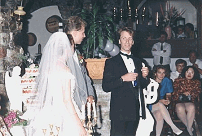 &nbsp&nbsp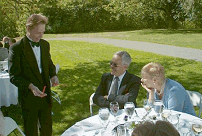 ---
Home | Businesses | Family Parties
Media | Contact Chris


Graphics provided by Aerographics